Artist's Statement –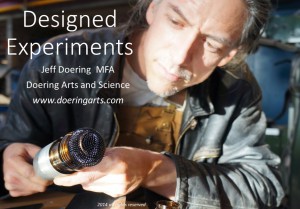 "My work tends to be simple in shape, but often embodies complex concepts of geometry, physics, and math. The hope is to make connections in form between the physical sciences, ourselves, and our world; to invite the viewer to experience ideas and forces that are often lost in numbers and formulae. These forces surround and create us. I figure that there is a path to their expression besides encoding in digits or words."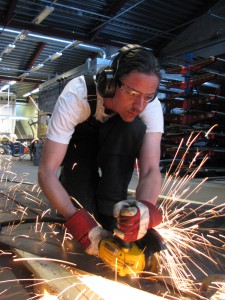 Designer, craftsman, artist and educator, I now work primarily in collaboration with the Göteborg and Chalmers University system out of the brilliant metal workshop at HDK Steneby, Sweden.  I run Doering Arts and Science, a company to create and install my work.
I was a bronze foundryman working on monumental sculpture before a decade of public teaching in California and Sweden.  After a MFA at HDk Steneby, Göteborgs University in "Iron and Steel in Public Space," I now design and handcraft installations in public space that inspire new ideas in science and art.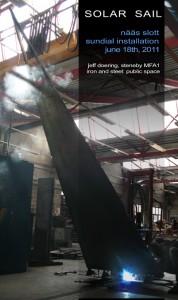 Scale and materials are limited only by the imagination.  My devices are among the largest and the most accurate in Europe, and they are learning tools as well.
In addition to my own expression of art and science, I look to create environments where inquiry and education can flourish – connecting works with critical ideas and curricular goals to benefit the greater community.
Click on the links below and feel free to contact for more information.  I am always open to new ideas and possibilities for existing and future works.
Article from Hephaistos Magazine – Jeff-Doering Hephaistos 2014 (1)
Review from Documenta 13 by Lori Waxman – R.O.M.P. – 60 wpm – Lori Waxman
Recent presentation about bringing science to public space – Designed Experiments
Selected Projects and Exhibitions
TedX Talks Göteborg -Nov. 2014
Clarion Post Hotel, Göteborg
Designed Experiments – Bringing Science to Public Space -Sept. 2014
Chalmers University – exhibiton and lecture
Visible Invisible -June 2014
HDK Steneby – solo exhibition
Ferro-City -May 2014
Göteborg's Vetenskapsfestivalen
Eld och Ljuskväll -Nov. 2013
Dalsland Konstmuseum
Steneby Exhibit -May 2013
Dals Långed, Sweden
Helsinki: Material -Oct. 2012
Röda Skolan, HDK Steneby
Next Stop -June 2012
Vasa Konsthall Gallery
Blood, Sweat, Tea, and Money -June 2012
Trädgårdsföreningen, Göteborg
MFA Examination Exhibit -April 2012
HDK Steneby
Hypotheseis: an Educated Guess -Dec. 2011
Nybygget Utställningshallen, Steneby
My Space: Istanbul -Oct. 2011
Röda Skolan, HDK Steneby
Solar Sail: Monumental Sundial Installation -June 2011
Nääs Slott, Sweden
Additional Selected Activities
2014 Recipient, Sveriges Konstföreningar Utställningsersättning
2013 Participant, ECSITE Conference, Göteborg Sweden
2012 Recipient, Adlerbertska Travel Scholarship for Helsinki study\research trip
2012 Participant, 60 wpm, Documenta 13, Kassel, Germany
2011 Recipient, Adlerbertska Travel Scholarship for Istanbul study\research trip
2010 Participant, Biennial of Architecture, Venice, Italy, Nordic Pavilion design competition
Jeffrey Doering – www.doeringarts.com