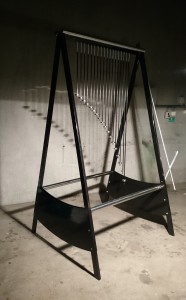 The Pendulum Wave is my current work – a real challenge to design and capture the elegant mathematics in a way that is easy to start and enjoy.  The algebra gets long (though I must admit enjoying bringing it to life – veteran math teachers unite!)  The effect is well explored- see videos below – but the start has always been a challenge, often requiring assistance or a particular knack.  I invented a unique set of levers and bearings to make it easy.
It cycles in about a minute.  Build your own!  Contact for more info, educational applications, or possibilities.  I have been working with this form for some time, and look forward to scaling up – hallways, architectural spaces, outdoors – lots of possibilities.
This one required a lighter, more rigid material than steel for the rods, and I went to carbon fiber.  My search led me to CARBIX – a fantastic company in Nol that was more than willing to help me get up to speed.  It is tricky stuff to work with, but Stefan and Jimmy are inspired and creative – and know their carbon fiber.  I learned new ways to craft this unique material into my work.


The Exploratorium's version is fun as always!
There is a natural association with music:

This sort of relationship can be expressed in many ways – my current favorite,
I'm already working on another – don't hesitate to contact with ideas or opportunities!