It was a pleasure to be front and center at the Göteborg's Vetenskapsfestival – Sweden's largest Science Festival.
I brought out 3 new prototypes, and Per-olof Nilsson's Vortex Cannon I designed and built last year.
Here is a quick look at the fun:
And the works:
Ferrofluid:
I have been designing exhibits with this messy expensive wonder for the last few months.  It was hard to get away from the seminal work of Sachiko Kodama, or the gear/electricity laden works already out there that allow interaction, but at a distance with heat decay.  In my studio, the most fun and inspiration came from direct hand interaction – here are two of the prototypes ready for public space.  (design copyright April 2014, all rights reserved)
Ferrodome: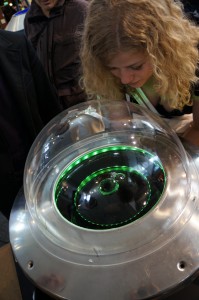 Free interaction in a puddle is the best way to get to know this new material.  A clean arena and inspiring aesthetic drew wondering crowds to explore this alien substance.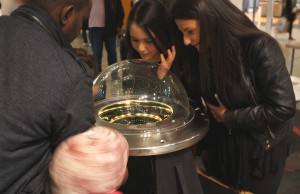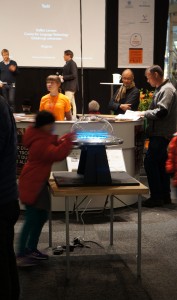 Ferroquarium: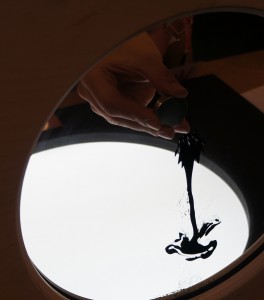 Suspending ferrofluid in a clear medium is challenging but worth it – the elegance of the shapes and kinetics are truly unique.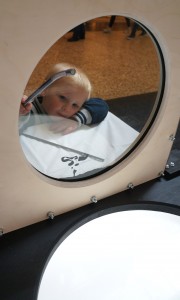 Thanks to CZFerro for help along the way and the suspension fluid.
The interaction achieved with crowds surpassed my expectations.  People were amazed by the fluid itself at first, but then began to play games, explore together, and share delighted experiences and conversations.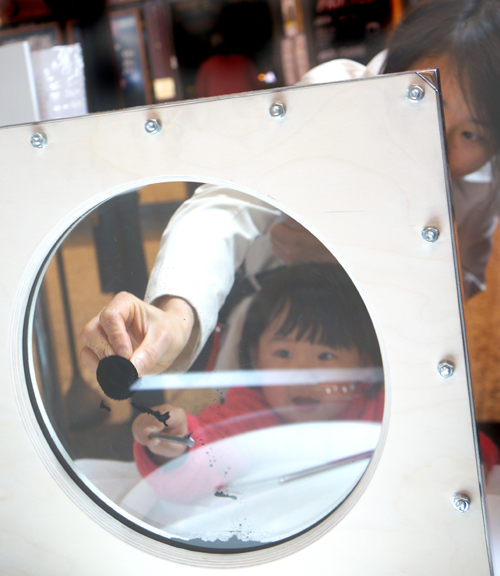 Chaotic Pendulum: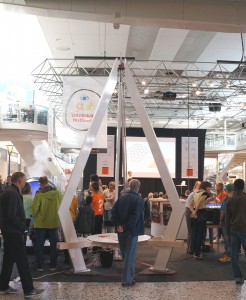 A large commission for Per-olof Nilsson, a portable ROMP over 4 meters tall.  Compasses embedded in the base show the changing landscape of waves as the audience tries to guess which answer will be chosen at the end of its chaotic path, (+ yes, – no, or zero ?).  The design on the plate is colored to indicate north and south polarities and lit from below, patterned to give a nod to the Pythagoreans.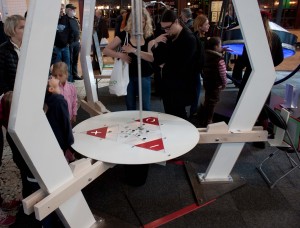 The stability of a free-standing pendulum is a challenge met with rigid aluminium, and a finely crafted birch base with an adjustable cog – woodwork by Martin Horgan.
For the pendulum rod, I hand-made a universal joint at the top with ceramic bearings for minimal friction.  The rod itself has a triple tube stabilizer, adjustable length and weight, bottom and top, and a small, hand-turned bob with some big magnets inside.
The Vortex Cannon: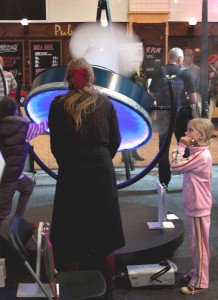 This workhorse created hundreds of rings to bring in crowds and connect levels of the festival – including the airspace.  A brilliant sunbeam came across each day, and after a ring or two, people refined their skills, took aim, and played.  Questions about the aerodynamics were aided by the design elements on either side of the opening – a structural diagram of the vortex effect.  See the pages for Vortex Cannon for educational resources and more.